1-Port BNC PoE over Coaxial Extender
---
This Power over Coaxial Cable Extender Transmitter/Receiver is a 1-port 10/100BaseT(X) PoE/PoE+ PD and 1-port BNC PoE over Coaxial Extender Transmitter/Receiver. It is designed to extend IP Ethernet transmission and inject power over an existing coaxial cable for distance up to 230 m / 754.6 ft (RG11) or 180 m / 590.5 ft (RG6) into PoE IP camera.
The Extender consists of a Transmitter and Receiver pair, which can work in pair without any power adapter anywhere on your network infrastructure. It is perfect solution for sending IP video links and power to remote PoE IP camera installation that is beyond the 100-meter (328-feet) distance limit of Ethernet.
Key Features
1-Port 10/100BaseT(X), PoE over Coaxial Extender
IEEE 802.3at compliant
Extension up to 230 m (754.6 ft) via RG11 (7C) and up to 180 m (590.5 ft) via RG6 (5C2V)
Pocket size with rigid metal case
Smart Plug and Play
Adapt to buildings with existing Coaxial Cables and power source
Power source free at remote site
Optional DC inputs to enhance the output PoE at Receiver site
Compatible with GV-IP Cameras
Overview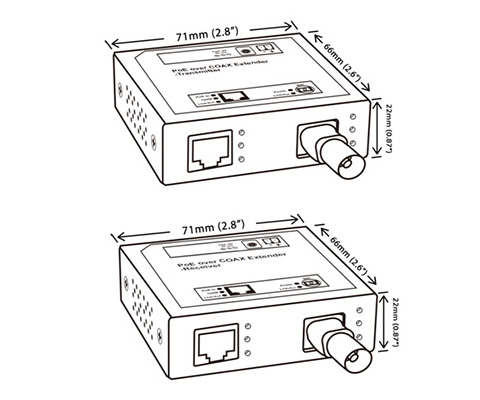 Packing List
Power over Coaxial Cable Extender Transmitter x 1
Power over Coaxial Cable Extender Receiver x 1
Installation Guide x 1
Power Adapter x 1
Power Cord x 1
---
Note:
Specifications are subject to change without notice.